Sarah Brannan
Sarah is a native of Elk Grove Village, IL, a suburb of Chicago. She is a junior broadcast journalism major at Ball State University. She is the Assistant General Manager of WCRD 91.3FM and is also a reporter and anchor for NewsWatch.
Posts by Sarah Brannan
1
We sat down for dinner and the food just kept on coming.  We started with Chinese meatballs and the best dumplings we've had since being here.  Thomas kept translating what his mom was saying and she kept telling us that there was still more on its way. She wasn't lying. She soon brought out spring rolls and sweet and sour fish.  Everything was delicious!  Then we had a sort of Chinese burrito.  I'm not sure exactly what you would call it.  First, you put some sugared seaweed on top of a pancake.  Then you add a delicious mixture of tofu, chicken, vegetables, and more.  Then you add sweet peanuts and chili sauce.   Finally, you roll it all together and enjoy!  Some of us, I won't mention any names, had a tough time keeping their food together.  Our stomachs were packed at this point, but Thomas' mom said that dessert was on its way.  Who doesn't have room for dessert? 
Dessert consisted of sweet dumpling soup with flowers and fruit.  We have had this soup before, but this version was tastier. Thomas told us that it is a Chinese tradition to make sure that your guests do not leave hungry.  Our stomachs were definitely satisfied.  After dinner, we had Oolong tea, which Thomas said is good for digestion.  It was a nice change to have dinner at a home.  We all miss that.
Then, Thomas took us around Mong Kok, which is a happening place.  It reminds me a lot of NYC, with all of its flashy lights, packed sidewalks, and street performers.  It was a perfect way to end a perfect evening! 
On another note, today is Dom's birthday; so make sure to wish him a very happy one!
Thomas Yau invited us all to his home for a lovely dinner cooked by his very kind mother.  We were instantly welcomed by Thomas at the MTR station and then continued on our way to a stunning apartment complex.  We walked in to see an elegant fountain, a tempting swimming pool, and the most beautiful view of the mountains that I have seen so far in Hong Kong.
17
It all started with a suitcase.  We checked our luggage, which was a pain because of crazy overage charges for our XXXL bags.  I won the prize for heaviest luggage.  We were all frustrated, but everything was for the most part fine until we walked through security.  I made it through after struggling to balance my laptop, tea set, and backpack. 
As I was putting my laptop back into my bag, a uniformed man comes up to me and says, "Excuse me miss, can I see your passport?"  I agreed.  He looked at the passport, looked at me, looked at the passport again and said, "Okay, please come with me."
With a puzzled look I told him that I needed to tell my group where I was going.  He said okay and that I would be better off leaving my bags with my friends.  I dropped my stuff off with the gang and followed this man through the airport.  He led me into an unfurnished hallway and looks at me and says, "We need to ask you a few questions." 
A lot was going through my mind at this point.  "Will I miss my flight?  Did I make the do-not-fly-list in Asia?  What the hell am I doing here?"  And something along the lines of, "Oh my goodness.  I hope they don't kill me!"  He then led me to a run-down looking metal door.  We entered this room that was just like you would see in the movies.  The walls were bright white and the lights were blinding. 
"Have a seat," he said, "We'd like to ask you a few questions." 
"Who's we?"  I thought.
I waited for a few minutes for the others to arrive.  That few minutes felt like an hour.  I really was freaking out at this point.  Some other men soon arrived with one of my suitcases and asked me to stand up and open it.  I did and everything practically fell out since it was stuffed so full.   Then they asked me to start taking everything out.  Like I said, I won the prize for heaviest suitcase, so you can imagine what this was like.  Once I had completely ruined what little organization was in my suitcase to begin with, they found the culprit, a set of faux old coins.  They took them out, examined them and started asking me the most random questions ever.  I basically gave a rundown of my whole life story.  It was hard to concentrate because the lights were so bright and this huge black bug kept buzzing in my ear.
"Why are you here?  Who are you here with?  How old are you?  Are you a student?  What school?  How many people are in your family?  Okay, you are here with school, but why are you traveling?  Where have you shopped?  How much did you spend?  Why do you have these coins?  Who are they for?  What was the reason for this purchase?  What do you intend to do with them?  Where did you grow up?  Have you traveled before?  Are you enjoying your trip?  Do you like Chinese food?"   Etc.  It was out of control.
After typing what seemed like pages and pages of material into a computer, they finally told me why they had brought me there.  The coins that I had purchased were knock-offs, but they thought I was trying to smuggle old coins out of the country, which is illegal.   They took my passport and boarding pass, stamped the hell out of it, took me back through a private area of security, and let me go on my way.
I was very flustered at this point.  The man who had picked me up brought me back to the BSU gang.  Everyone could tell that I was a little shook-up and I would be lying if I said I wasn't.  This was quite the experience.  I picked up my carry-ons and we continued on to our terminal.  We got lunch and boarded the plane and that was the end of it.
4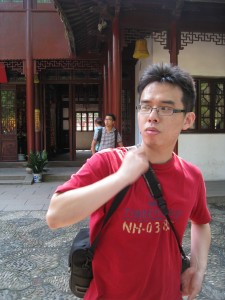 Meet Thomas.  He's a Hong Kong Baptist student who will be traveling all the way to Muncie, Indiana for fall semester.  I imagine that he will become a lifelong friend to all of us.  We were all very excited to hear that he was coming to Ball State and already told him that we will take him under our wing while he's in Muncie.
It has to be difficult to be away from home for so long and not have anything culturally familiar in your surrounding area.  In Thomas' case, he might find comfort in one of the many King China Buffets in Indiana, but that might be stretching it.  Lucky for us, there are ample amounts of American presence in China, from KFC to Dairy Queen to Ball State's own, Papa John's.  We find comfort in talking to other English natives or seeing the golden arches while walking down the street.
Being here has changed my perspective on many things.  I have a few friends who were exchange students, but I had regrettably never made a real effort to get to know more of them.  Seeing the language barrier and the difficulties that we have come across during our travels, I hope to play a bigger role in the lives of international students when I return to BSU in the fall.
8
With me corn beef n' cabbage blood, the Ireland pavilion was top on my list.  This pavilion was one of my favorites until Dominic and I discovered disturbing information.  We spoke to one of the workers there who was born in China, but lived in Ireland for a few years.
Dominic asked this gentleman what he generally thought about the US.  He told us that he used the American Pie movies as a reference.  If you are unfamiliar with this movie series, all you have to know is that sex, booze, and idiocy are the main themes.
We laughed after hearing this and tried to explain that it really isn't all like that, but it really is no laughing matter.  I would hope that this is not the universal feeling for the US, but I have an itch that it may be.
57
"You are beautiful," he said, in broken English as he asked me to pose for a photograph.  I am a celebrity here; we all are.  A stranger snaps a shot with every stride we take.  At the World Expo, an elderly woman called me over to pose for a picture.  I asked to see the picture, which turned out to be a zoomed in picture of just my face.  Pale skin is considered royalty in China and with my pastiness; I am as royal as they come.
With the flash of a smile and a respectful wave, this culture accepts us as their own.  We travel across oceans to see new worlds, but no matter where we live we aren't nearly as different.  When we acknowledge a passing gaze, a lit up face is enough to know that despite the communication barrier, we are all one.  I begin to compare these behaviors to our own country.  Are we as accepting?
2
Ni Hao from Shanghai!
After traveling for about 30 hours, we were completely exhausted.  The beds are like rocks, which is apparently quite common here, but after about 24 hours of no sleeping, I could have slept anywhere, with the exception of another plane.
We woke up to a lovely breakfast of fried rice, dumplings, noodles, spicy vegetables, eggs, sweet potatoes (or something similar), and warm "orange juice," which can best be described as America's Tang.
After breakfast, we decided to take to the streets to just take everything in.  The sights, sounds, smells, and people are fascinating.  Almost everyone stares, waves, or takes a picture of us as they pass.
I am currently sipping on some watermelon juice, which is basically just a whole watermelon put into a blender.  The man that I sat next to on the plane recommended it.  He grew up in Salt Lake City and moved to China shortly after graduating.  He gave me a lot of tips and tricks to get around and since his drink suggestion is a success, I will have to follow his advice.
Sarah Brannan's RSS Feed